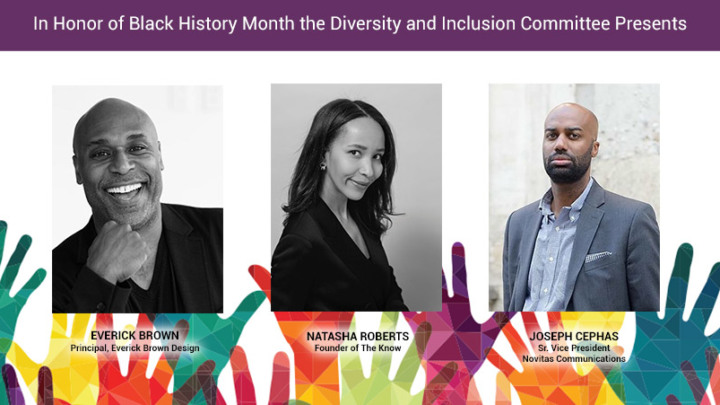 A Celebration of Design Talent: Architecture - Black Art - Interior Design
Description
Join us for an evening of celebration of talent in the design and art industry. Our presenters will be sharing each of their talents in regard to architecture, black art, and interior design. Each speaker will dive into conversation regarding their area of expertise, for an exploratory event focusing on not only our differences, but what we all have in common.
Presented by the ASID NY Metro Diversity & Inclusion Committee
---
SPEAKERS
Joseph Cephas is a Senior Vice President at Novità Communications, a New York-based integrated marketing and communications agency. A seasoned public relations, marketing, and branding leader, Cephas previously served as Vice President, Communications & Brand Experience for the American Society of Interior Designers (ASID), where he developed and implemented successful integrated strategic communications plans that advanced ASID's brand identity and increased visibility across key stakeholder audiences. He is also a frequent speaker on racial inequality and the need for diversity in the workplace. Cephas holds a Master's degree and a Bachelor's degree in Communications & Media Studies from Edinboro University of Pennsylvania.
NATASHA ROBERTS, FOUNDER OF THE KNOW, IS AN ART CONSULTANT AND INDEPENDENT CURATOR SPECIALIZING IN CONTEMPORARY ART AND DESIGN. SHE FACILITATES PARTNERSHIPS BETWEEN ARTISTS, GALLERIES AND CREATIVE COMPANIES, ADVISES COLLECTORS, AND BUILDS CULTURAL CAPITAL WITH INNOVATIVE BRANDS.
A PRATT-TRAINED PERFUMER, NATASHA HAS INCLUDED FRAGRANCE IN SPECIAL EXHIBITIONS, AND SHE ALSO LEADS CONTEMPORARY ART TOURS FOR GROUPS AND PRIVATE CLIENTS IN MUSEUMS, GALLERIES, AND AT SITE-SPECIFIC INSTALLATIONS AND ART FAIRS.
COMBINING HER PROFESSIONAL SKILL SET WITH A PASSION FOR ADVOCACY, NATASHA AND HER CLIENTS HAVE GARNERED PRESS IN ARTNET NEWS, ARTSY, VOGUE, PAPER MAGAZINE, ENTREPRENEUR, JUXTAPOZ, THE NEW YORK POST AND MORE.
Everick Brown is an interior designer with clients throughout the United States. Based in New York, he launched Everick Brown Design in 2009 to dedicate 100% of his time to creating modern, elegant homes for a discerning clientele. Prior to Everick Brown Design, he was the founder and proprietor of ebhome, an upscale home furnishings and design studio established in 2000. Located in Mt. Kisco, NY and South Norwalk, CT, his home furnishings store and design studios are a compilation of his life experience as a fashion merchant and connoisseur of fine home furnishings. For over 15 years, Everick traveled to Europe, Asia, Australia and New Zealand as a senior retail executive, providing merchandising and design expertise for Duty Free Stores, Coach Leatherwear and J. Crew. Everick offers an intriguing mix of fashion, design and style. His interiors are self-described as "modern classic with a global perspective." He has been acknowledged by Architectural Digest, House Beautiful, Westchester Magazine and New York Times, to name a few. Everick has also been featured on television and was recently highlighted on NBC Open House. Everick is married, has two children, one Stepson and is a graduate of Dartmouth College.