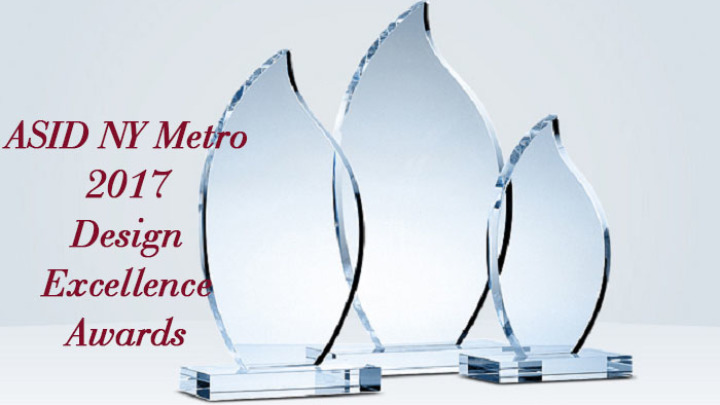 ASID New York Metro DESIGN Excellence Awards
Description
This design competition recognizes projects by members of the New York Metro chapter that represent excellence in interior design by successfully addressing client objectives and demonstrating creativity and skillful problem solving in the following design criteria categories.
Qualifying Information
Active members in good standing with the New York Metro chapter of ASID are eligible to participate.
Entry Rules
All entries must be submitted in the format outlined below.
Your entry must fall under one of the categories listed.
Eligible projects must have been completed within last 5 years.
Entries from a project that has previously won an award will not be accepted.
All entries must be physically installed projects, i.e. no virtual projects will be accepted.
A project may be entered into multiple categories however it can only win one category.
Each category requires a separate entry fee.
Fees and Deadlines
Fees: $150.00 per entry
Deadline: August 6, 2017 11:59pm
*In the event of disqualification, the entry fee will not be refunded. Suspended membership is an immediate disqualification.
Submission Entry Requirements
INSTRUCTIONS: You will be redirected back to the Design Awards Network entry page after you pay by credit/debit card via PayPal for your entries on the website. If not, you can visit that page by clicking this link.
DEADLINES: Your REGISTRATION, COMPLETED ENTRIES and PAYMENT must be received by Sunday, August 6, 2017 at 11:59 p.m.
METHOD: You will submit your entries ELECTRONICALLY via the DesignAwards.Network Entry System. Failure to include the required information and documentation will result in disqualification.
Your complete submission will include:
Design Category Page and Concept Statement, photos, drawings, and plans (3 images max, short description; 300 words maximum)
Concealed Identification forms for photographer and owner permission forms
Each of these forms will be available online within the Design Awards Network Entry System. All forms will be completed online, except for the Owner and Photography Permission Forms which will be uploads in jpg or pdf format.
Please complete the following forms online within the Design Awards Network Entry System.
Design Category Form
This page must be filled out completely online
Be sure to clearly complete the Design Project Checklist.
Be sure to click on these three boxes to complete after processing the data inside: Design Statement, Entry Release and Project Name & Additional Project Designers. You will now see a green arrow on these boxes.
Design Statement is 300 words or less and is a written presentation of the client's criteria (aesthetic & functional), problems or challenges and specific goals. State what was done by the designer and include some details relating to furniture, finishes, lighting, flooring, architecture, etc.
**Do NOT include the facility name or project name in the Design Statement or under photos
Project Submittal
Image Size: All photographs submitted must be at least 300 ppi
Image File Size: Minimum 2 MB (4MB preferred) 10MB maximum
Image Document Size: Minimum 8" x 10"
No copyrighted photos
A minimum of TWO photographs are required
A maximum of FOUR project photographs showing furniture placement, lighting, architectural elements, before photos, perspective drawings, etc.
Elevations, details, renderings, color or fabric swatches are encouraged but not required
Upload Realse Forms to Entry:
**Do NOT include the facility name or project name in the submitted photos
Award Categories
C-01: Restaurants
C-02: Stores/Retail/Trade Showrooms
C-03: Professional Offices
C-04: Hotels and Spas
R-01: Kitchens
R-02: Baths
R-03: Bedrooms
R-04: Living Space
R-05: Children's Rooms
R-06: Home Offices
R-07: Outdoor spaces
R-08: Show-houses
R-09: Tabletops
R-10: Wild Card: Walk-In Closets, Man Caves, Playrooms/Game Rooms. Wine Cellars, etc.
Judging Criteria
Design meets stated goals and challenge
Functional use of space
Functional use of materials
Creative use of space
Creative use of materials
Color scheme and composition
Effective use of lighting
Scale and proportion of elements
Solutions appropriate to the design statement
Quality and clarity of photographs and presentation
Each criteria is judged from 1 to 10, with 10 being the highest. Entires will be judged by ASID Design Professionals from other ASID chapters.
Post Judging
Entries remain the property of the Chapter
If an entry is awarded first place, the entrant agrees to NY Metro Chapter of ASID sending all entry related materials to ASID National for national entry and publicity
Each entrant receiving an award agrees to follow publicity guidelines as established by ASID and authorizes ASID to use photographs and submitted content in publicity releases (ex: website, Design magazine, and social media posts.)
Your client and photographer must also agree to the publicity release terms and sign as indicated on the applicable Permission Forms
New York Metro Chapter of ASID does NOT accept responsibility for errors and omissions in any publication
Receipt of your entry registration signifies your agreement with the Competition terms
Awards
There are two possible awards per category:
First-Place Design Excellence award
Second-Place Design Excellence certificate