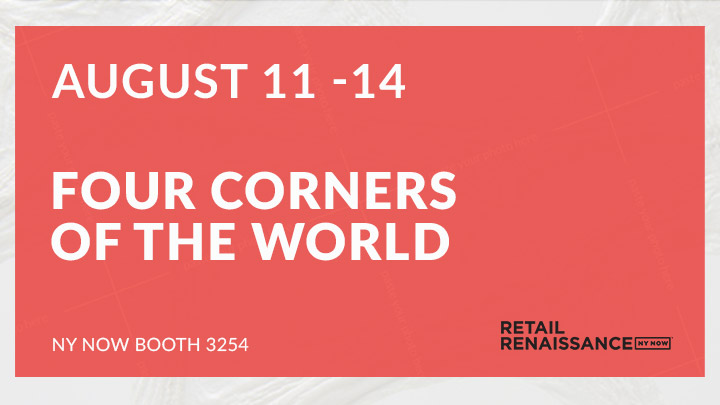 Explore the "Four Corners of the World" at NY NOW!
Description
HEADING TO NY NOW? PLEASE JOIN US AT BOOTH 3254 IN THE TABLETOP SECTION TO EXPERIENCE A TRANSCEND SPACE CURATED BY A TEAM OF DISTINGUISHED DESIGNERS REPRESENTING THE PRESTIGIOUS AMERICAN SOCIETY OF INTERIOR DESIGNERS, ASID NY METRO. THIS YEAR'S BOOTH IS INSPIRED BY THE "FOUR CORNERS OF THE WORLD." OUR ASID DESIGNERS WILL FOCUS ON THE DESIGNS OF AFRICA, THE AMERICAS, ASIA, AND EUROPE. THIS IS THE FIRST OF ITS KIND AT NY NOW!
FEATURING THE DESIGNS OF:
Amal Kapen, Amal Kapen Interiors (The Americas)
Bjorn Bjornsson, Bjorn Bjornsson Interior Design (Europe)
Joan Ravasy, Ravasy Design (Africa)
Benjamin Huntington. Veritate Design (Asia)
Please also join us for prosecco and exclusive tours on Monday, August 12th! More infomation here.