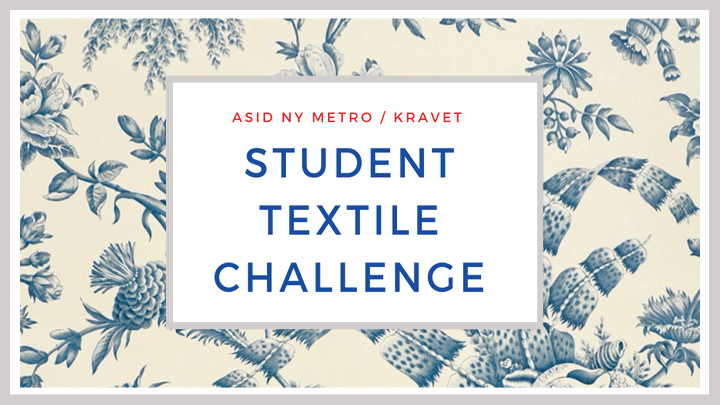 Student Textile Challenge
Description
Join ASID NY Metro for a design creativity challenge using historic textiles from the Kravet Archive!
PROJECT DESCRIPTION:
Calling all creative students ...it is time to reinvent! Do you have a passion for design and textiles? This fall, we are challenging you to an ASID NY Metro / Kravet student challenge. We have handpicked ten historic textiles from the iconic Kravet Archive located in Bethpage, NY. We are inviting you to select a textile to reinvent it to your personal design aesthetic. Please see project guidelines below, as well as our welcome video further introducing the project. Let's Get Creative!
PRIZE:
Selected winners will receive a private tour of the Kravet Archive as available, as well as personal recognition in DESIGN Magazine. This archive is not open to the public and includes over 30,000 historic textiles dating back to the 2nd Century BC. Additionally, runner up winners will receive Kravet selected design coffee table books.
*Winners who are not existing ASID members will receive a complimentary student membership from the ASID NY Metro board of directors*
PROJECT GUIDELINES:
Goal: ASID NY Metro and Kravet want to see your creativity using a historic textile!
Select a textile, and create a unique reinvention to display the fabric in a contemporary way . Reinventions may include the textile used as wall covering, upholstery fabric, or any other interior textile use you would like to create . Textiles may be left as original or digitally modified to compliment your design - completely up to you!
Submissions must include: One rendering of the textile design in an interior setting, and a 250 words describing your textile selection, and your final design . Renderings may be completed by hand, mixed media, or created with any computer software such as Revit, Sketchup, Photoshop, etc. Specific guidelines on this project are flexible, as we want to encourage your creative capabilities!
SUBMISSIONS/JUDGING:
DEADLINE TO SUBMIT EXTENDED TO DECEMBER 7TH! Please submit all projects as a PDF to: studentrep@nymetro.asid.org by Monday November 23rd . All projects will be seen and judged by selected industry professionals:
Benjamin Huntington, ASID NY Metro President, Principal of Veritate Design
Alyssa Grella, ASID NY Metro Past President, Principal of Studio Grella
Ellen Kravet, Co-Principal and Executive Vice President of Kravet Inc.