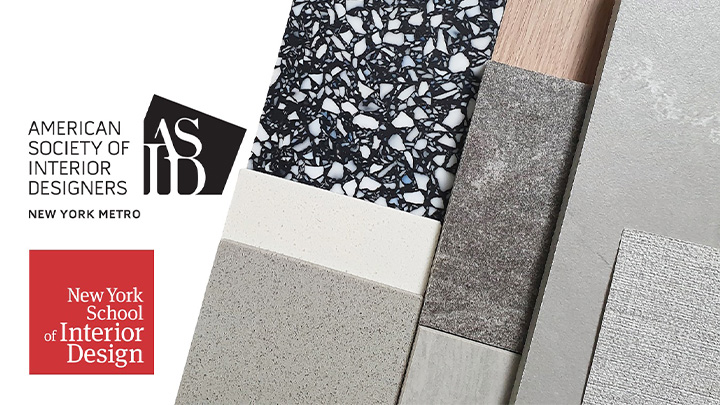 Description
THE CARBON IMPACT INSIDE:
HOW INTERIOR DESIGNERS CAN FIGHT CLIMATE CHANGE
A CLIMATE WEEK NYC 2022 EVENT
Interior design has a significant impact on a building's or home's carbon footprint. Although interior materials contribute heavily to the embodied carbon of a building, until recently, they were disregarded in carbon calculations, which instead focused on architectural elements and operating energy.
As building shells and systems become more energy-efficient, the cumulative effect of interior build-outs and renovations – the lifeblood of Interior Design - can account for more than 50% of the embodied carbon of a building. All this means that interior design needs to take a front seat in making material selections that help reduce emissions.
This panel, cohosted by the New York School of Interior Design and the American Society of Interior Designers NY Metro chapter, will discuss interior design's crucial role in reducing our embodied carbon emissions and provide considerations and steps to put words into action.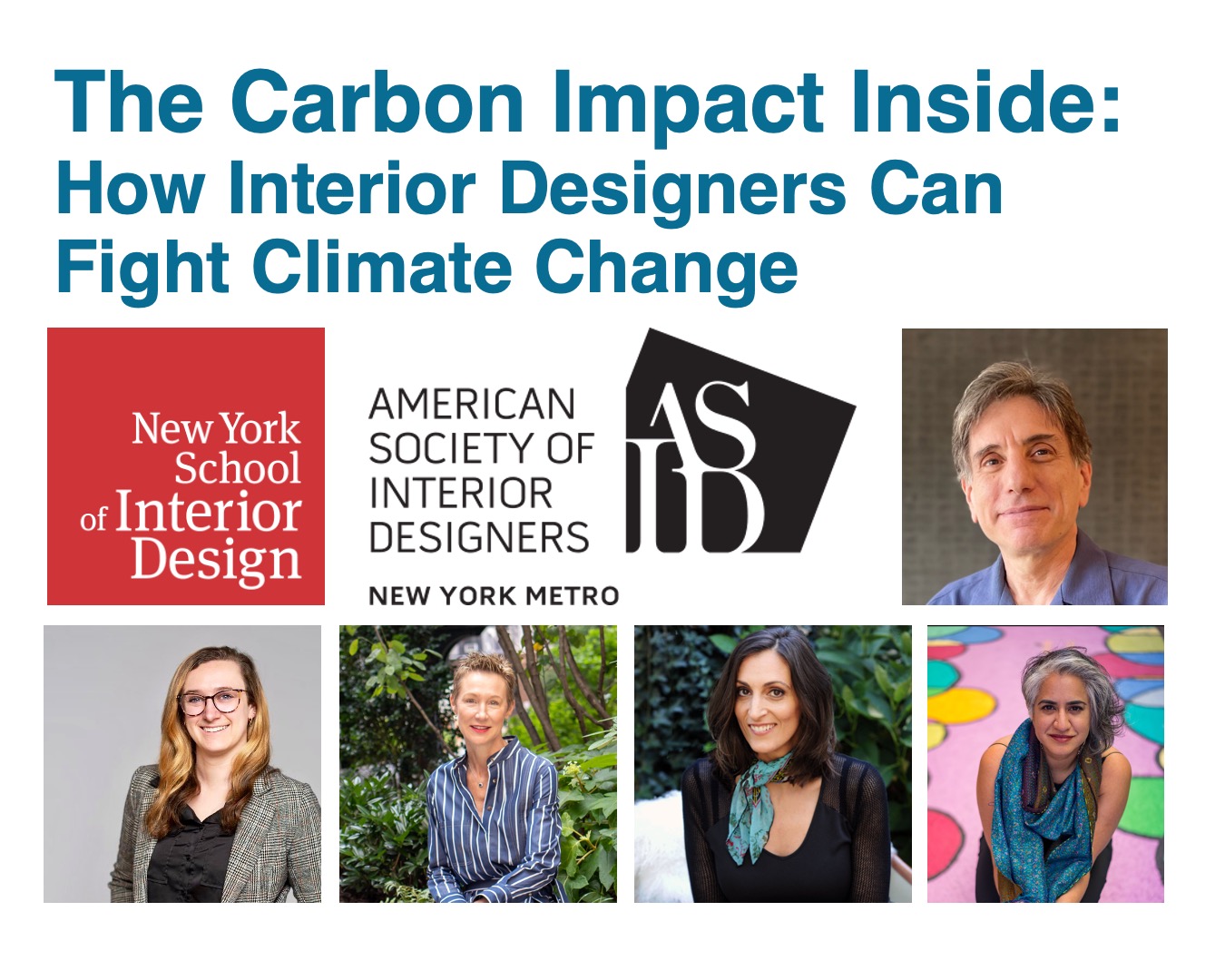 DAVID BERGMAN RA, LEED AP, CPHD, is an architect, author and professor. He is the founder of DavidBergmanEco, author of Sustainable Design: A Critical Guide and the blog EcoOptimism.com, which is dedicated to the belief that positive, often symbiotic, solutions exist to our environmental and economic issues. Bergman is the Program Director for the New York School of Interior Design's Master of Sustainable Interior Environments and also adjunct faculty at Parsons School of Design. He holds a BA in Architecture and Economics from Yale University and an MArch from Princeton University.
PHOEBE BEACHNER is an interior designer for Hart Howerton New York, where she focuses mainly on hotel & restaurant design, design for spa and wellness, and private high-end residential. Phoebe is currently the NEWH NY Chapter Green Voice Committee Chair and a member of the ASID NY Chapter's Events Committee and sits on the ASID Advocate by Design Council. Phoebe is also a Healthy Materials Advocate for the HML at Parsons School of Design and LEED Green Associate certified. Phoebe has a BFA in interior design from the Savannah College of Art and Design (SCAD) and a Master of Professional Studies in Sustainable Interior Environments degree from the New York School of Interior Design. Phoebe has been a recipient of the IIDA Sustainable Design Education Fund, a panelist on the IIDA Future of Design Roundtable, and has been published in the ASID NY Metro Chapter's DESIGN Magazine, the ASID Student Portfolio Book and the Atelier New York School of Interior Design Magazine.
MICHELLE JACOBSON has been a practicing interior designer for 30 years. In 2018, Michelle completed the Sustainable Interior Environments graduate program at New York School of Interior Design and she is now a part of the faculty at New York School of Interior Design teaching both undergraduate and graduate students. In addition, Michelle is LEED AP ID+C, WELL AP, Living Future Certified, a Green AP, a Fitwel Ambassador and a TRUE Advisor. Michelle also sits on the ASID National Codes and Standards Committee where she edits the Quarterly Newsletter and is a committee member for the Sustainability and Accessibility Committees. She also is a member of the ICC Code Interpretation Committee.
MARIA LOMANTO is an award-winning designer and founding principal of DesignGLXY LLC, the interior design firm she founded in 2019 dedicated to health, wellness and sustainability in the built environment. Maria graduated from New York School of Interior Design with honors. She is a Living Future Ambassador, WELL AP, Fitwel Ambassador and a Healthy Materials Advocate with a certificate from Parsons Healthy Materials Lab. She is a co-founder of the Alliance for Healthy Design and the Health, Wellness & Sustainability Committee of ASID NY Metro. She also serves on the national ASID Advocate by Design Council. Her work has been featured in Design, Time Out New York, BehindtheScenesNYC.com and she has been interviewed and quoted in articles for AD Pro, Design and The Robb Report.
SEEMA PANDYA is an accomplished sustainability consultant who has worked on over 40 sustainable building projects and is a 3rd party USGBC technical LEED Reviewer for over 100 projects. She also was recognized by Green 2.0, as a diverse leader in the environmental field. She is a graduate professor of sustainable design at the NY School of Interior Design and FIT SUNY. Seema is also an accomplished multidisciplinary artist. She also served as the Chair of the NY IIDA Sustainability Forum and Board of Directors.