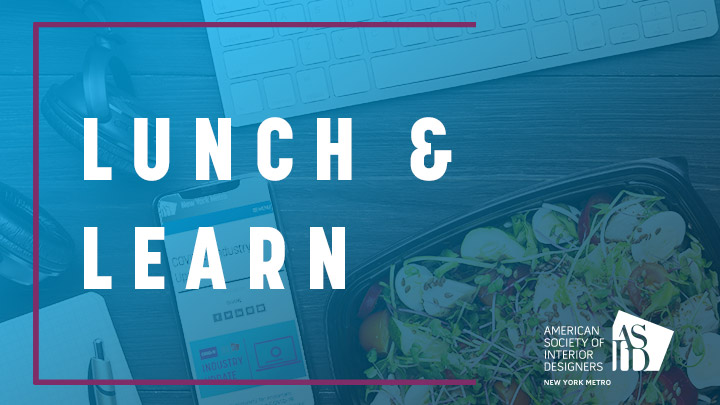 Description
Beginning on Monday, March 30th, tune in every Monday at noon for a lunch and learn with the ASID NY Metro Community. Our Monday program will be targeted towards business activities: marketing, finance, trends, and more! We welcome your suggestions, as well!
April Schedule:
March 30th : Navigating the COVID-19 Crisis in Business, Kaysian Gordon, Clarus Group
April 6th : Public Relations & Marketing, Andrew Joseph, Andrew Joseph PR
April 13th : Presentation by StyleRow, Erinn Valencich
April 20th : Presentation by Benjamin Moore, Toni Germie
April 27th : Take It From the Person Who Comes In After You Leave – A Professional Organizer is the Secret Tool You Need In Your Toolbox!, Laura Cattano, Laura Cattano Organizational Design.
May Schedule:
May 4th : How to Start Selling Design Services Virtually, Sandra Funk, House of Funk, Nicole Heymer, Curio Electro, Joan Ravasy, Joan Ravasy Design LLC & Diana Mosher, Diana Mosher Associates LLC.
May 11th : Designer Survival Skills In the Time of COVID-19, Kim Radovich, Kim Radovich Interiors
May 18th : How to Build Business Using Pinterest as a Tool to Partner with Clients, Garette Johnson, Garrott Designs
May 25th : Happy Memorial Day! No Lunch & Learn.
June Schedule:
June 1st : Roundtable Discussion: How to Open in the COVID-19 Era, Moderated by Adrianna Russell, Ferguson & Meg Kahn, Hastens.
June 8th : Products For a Cleaner Space, Setta Tavitian, Kohler
June 15th : Holistic Design Approach: The Future of the Industry (Or Not!), S. Lee Wright, Holistic Interior Designs
June 22nd : Sustainable Care of Rugs & Carpets, Lucy Tupu, Tupu Design
June 29th :TBD
Regularly check back for updates!