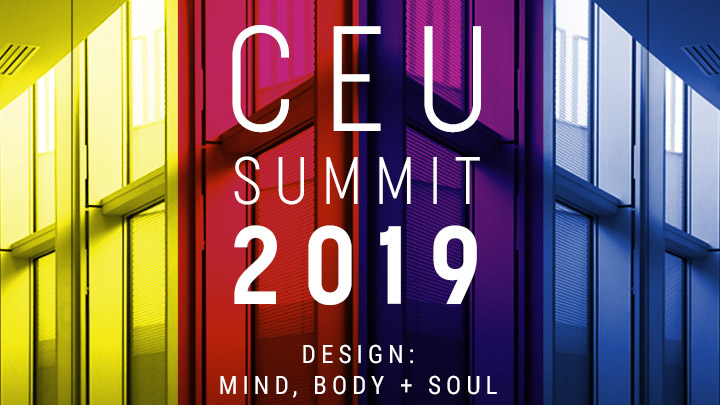 CEU Summit 2019! DESIGN: Mind, Body, + Soul
Description
CEU DESIGN SUMMIT
DESIGN: MIND, BODY, & SOUL
PRESENTED BY ASID NY METRO CHAPTER & A&D BUILDING
PRE-REGISTRATION ENDS TUESDAY, FEBRUARY 5TH!
NEW 3 Day Format!

Design: Soul
Biophilic Design, Vegan/Humane Design
February 6, 2019 1:00 PM - 7:00 PM
Design: Body
The Mindful Materials Journey + Innovations in water conservancy.
February 7, 2019 11:30 AM - 3:45 PM
Design: Mind
Design Business & Marketing
February 8, 2019 8:30 AM - 12:00 PM
PRICING: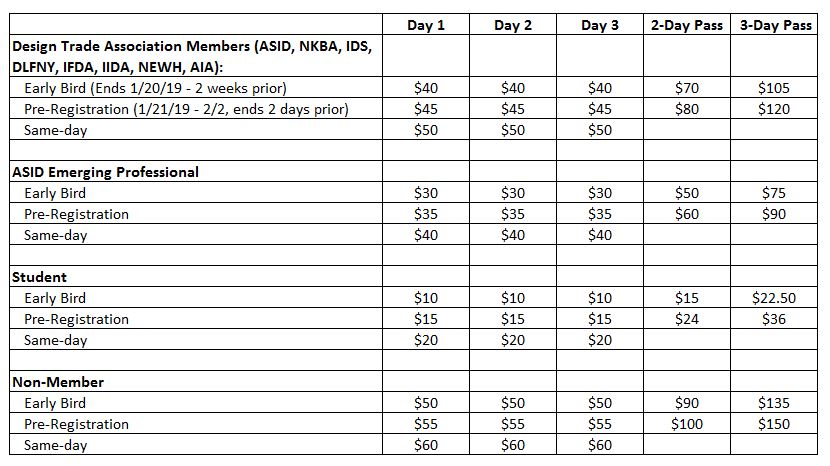 Earn up to 6 CEU Credits: IDCEC (ASID, IIDA)
Please have your IDCEC number available when purchasing the ticket and also when you arrive at the event.

And participate in the A&D Building Showroom Crawl! Visit all participating showrooms and get your "Passport Card" stamped. Come early and stay late! Be sure to visit our Platinum Sponsor – Hastens – at Florense and "test drive" their luxurious bed! Fully entered cards will be entered into the Door Prize Drawing to be held be via a LIVE CAST on Facebook and IG. Date and time will be announced soon.

ALL attendees are invited to the OPENING PARTY on 2/6/19!
SCHEDULE
DAY 1 - DESIGN: Soul
REGISTRATION
1:00 PM - 1:30 PM
Location: Florense - 3rd Floor

CEU 1: BIOPHILIA, The Soul of the Design Process
1:30 PM - 2:45 PM
Location: Florense - 3rd Floor
The concepts of Biophilia "love of life" and Biophilic Design are growing as they are now part of several major building certification programs intending to promote human health and well-being. Such terminologies and supporting research are relatively new, however, our interconnection with nature is as ancient as our species. Only in more recent times, since the introduction of industrialization, electricity and modern technologies, have we become increasingly disconnected from our biocentric roots. Incorporating nature and natural systems & processes back into our built environment is the key to shifting how we design our world—to be more resilient and balanced.

Speaker: Elizabeth Freeman Calabrese, AIA

Afternoon Break/Showroom-Crawl
2:45PM - 4:00 PM
Snack Showrooms: Poggenpohl (1st Floor), Ferguson (4th Floor), Poliform (6th Floor), Bilotta (9th Floor). PLUS visit other participating showroom and complete your PASSPORT Card.
CEU 2: Compassionate, Vegan Design
4:00 PM - 5:00 PM
Location: Florense - 3rd Floor
This CEU will address the following questions and points:
- What are vegan materials and décor made from?
- Why is it an important credential to add to your list of services?
- Why are humane alternatives healthier - physically & emotionally?
- How compassionate design help protect our forests by creating less pollution & aid sustainability.
It will also include case studies and other resources, as well as offer side by side comparisons of animal based vs. non animal based materials.

Speaker: Deborah DiMare, Founder of VeganDesign.org
OPENING PARTY
5:00 pm - 7:00 pm
Location: Ornare, 4th Floor

DAY 2 - Design: Body
REGISTRATION
11:30 AM - 12:00 PM
Location: Scavolini -5th Floor

LUNCH (Random Ticket Drawing at Check-In)
12:00 PM - 1:00 PM
Location: Middleby 10th Floor, Miele 9th Floor, Fisher & Paykel, 3rd Floor

CEU 3: The Mindful Materials Journey
1:00 PM - 2:15 PM
Location: Scavolini - 5th Floor
CEU 3: The Mindful Materials Journey
Interior designers have amazing opportunities to contribute to the health and well-being of people and the planet. Navigating the landscape of what constitutes mindful materials, how to choose, source and vet them, however, can be daunting and time-consuming. This presentation will help break down the steps and pave the way for a smoother path to Mindful Materials and reinforce the collective impact that designers can have on advancing the use and availability of Mindful Materials.
Speaker: Maria Lomanto, WELL AP, Founder + Principal, DesignGLXY, NY

AFTERNOON BREAK
2:15 PM - 2:45 PM
Location: Hastings Tile & Bath - 10th Floor/ Nolte-TBD, 10th Floor

CEU 4: "It's a Thirsty World"
2:45 PM - 3:45 PM
Location: Scavolini - 5th Floor
The world's endless thirst for water has put great strains on the earth's fresh water sources, restricting the natural water cycle from replenishing them. Thirsty World will explore how Agriculture, Industry, Climate Change, Human demands and this country's aging infrastructure have created major problems for our most precious resource. We will discuss new government regulations which preserve water, observe design and product solutions to save both water and energy, and discover the technology that is driving performance in water saving products.

Speaker: Jason McNeely, Sales Training Manager, Hansgrohe North America
DAY 3 - Design: Mind
REGISTRATION/BREAKFAST
8:30am - 9:15am
Location: Cosentino - 3rd Floor

CEU 5: 5 Essentials to Scaling Your Firm
9:15 AM - 10:30 AM
Location: Florense - 3rd Floor

When a small interior design firm is ready to scale their firm and/or their project load there are 5 Essentials to implement as one prepares for this next stage of growth. These tried and true systems insure you grow your business seamlessly.

Speaker: Julia Molloy, Founder, Bold Summit - Business of Luxury Design Summit

MORNING BREAK
10: 30 AM - 11:00 AM
Location: Lefroy Brooks - 7th Floor / West Wood - 7th Floor

CEU 6: Scaling Your Firm, Real Life Execution
11:00 AM - 12:00 PM
Location: Florense - 3rd Floor
We understand "the why" of scaling our business. We want to make more money, we want to service more clients, we want to be able to take time away from our business. We go to qualified experts for "the how" to do it. We learn the principles for scaling, the steps to take. But then we are in "the doing" of it. This is when we need to hear from our peers who have been done it. We need the life lessons, hard learned and the chance to ask the specifics in executing those essential steps. Join us for an in depth discussion on scaling your design firm with colleagues who are doing it.

Moderator: LuAnn Nigara, Co-owner of Window Works NJ, Host of "A Well-Designed Business®" Podcast
Panelists: Sandra Funk, Principal, House of Funk, NY-NJ
Jenny Madden, Principal, Jenny Madden Design, Hoboken, NJ
---
---
MASTER OF CEREMONIES: BENJAMIN HUNTINGTON, ASID, NCIDQ, NYS CID
Benjamin Huntington, born and educated in England, completed a BA with honors at Kingston University and then apprenticed with an exclusive London based architectural firm. During his ten years there he mastered the highest level of fine cabinetry design and detailing in a full range of architectural periods. Benjamin has designed and overseen projects ranging from town houses to large country estates for a wide variety of clients. After becoming the youngest associate of the firm he opened and headed their New York office in 1987 and worked on a number of prestigious designs for an exclusive set of International clients. Benjamin opened his own New York based design studio in 1991 specializing in high quality total interior refurbishments. Since then he has completed a broad range of projects from a 15,000 square foot ski chalet to a 12' wide brownstone. Benjamin was recently honored at the 2018 ASID Leadership Experience as a recipient of the ASID Medalist award.
ABOUT THE SPEAKERS:
Elizabeth Freeman Calabrese
Elizabeth is a licensed architect, LEED AP and WELL Faculty. Her professional and educational focus is promoting human and environmental health and wellbeing by connecting humans to nature and to each other in the built environment. She has been in the design industry for 30 years with national and international projects to her credit and is a leading educator of biophilic design. She encourages a holistic integrated approach when incorporating biophilia into projects including those seeking Living Building Challenge and WELL Building certifications. She co-published The Practice of Biophilic Design with the late Dr. Stephen Kellert available open-source at www.Biophilic-Design.com
Deborah DiMare
Deborah DiMare is an accomplished humane design expert, luxury interior decorator, author, speaker and global influencer for the compassionate design movement. Deborah founded the ultra-luxury interior design firm, DiMare Design, over 16 years ago. After becoming aware of the inhumane treatment of all animals, human & non, within the skins & fur industry, Deborah transitioned her firm to become 100% vegan. Her projects are non animal based, healthy & gentle on the environment. She does not use wool, fur, leather, silk, down or anything derived from a living creature. Deborah focuses on materials & furnishings that are ethical, sustainable, less toxic & that promote well being. Her knowledge and passion in compassionate design led to the creation of the VeganDesign.org Council, a global coalition comprised of industry professionals. The council, led by Deborah not only teaches compassionate design to companies all over the world, but is making change within the skins and hides industry. Deborah and her compassionate design expertise have been featured on the Today Show, NBC, TLC and in national and global publications.
Maria Lomanto
Maria Lomanto is a design visionary dedicated to the creation of workplace and residential interiors that honor the multi-sensorial experience of being human, and promote wellbeing of mind, body + spirit. Occupied by the persistent question, "How does a space make you feel?" Maria's practice mixes sensory-informed, evidence-based and biophilic design with the principles of great design, sustainability, and mindfulness to create enlivened places where people feel good and want to spend time. A graduate of New York School of Interior Design, Maria is a WELL AP, Fitwel Ambassador, Allied ASID, Associate IIDA. She is on the path to Living Future Accreditation and is Founder + Principal of the start-up Interior Design firm DesignGLXY. Maria comes to interior design from a 25-year career in corporate theater as an executive producer and designer of large- scale immersive experiences and events. Maria is passionate about making mindful materials the sexy choice for designers and clients.
Jason McNeely
Jason McNeely is currently the Sales Training Manager for Hansgrohe North America. He is responsible for the development and execution of continuing education courses and trainings to the Architectural, Design and Trade communities. Jason is also responsible for managing Hansgrohe's Aquademie training center at Hansgrohe's North American headquarters in Alpharetta GA. Jason has over 20 years of experience in the Kitchen and Bath industry working in many aspects from design, showroom sales, operations, installation and manufactures sales. This has provided him a profound knowledge of the varied facets of the industry. Focusing on his passion for education, development and training, Jason strives to deliver the most cutting-edge instruction and prevalent data relevant to the industry and Hansgrohe.
Julia Molloy
Julia Molloy is the leading operations specialist for the interior design industry. She has over 2 decades of operations experience, 12 of them in the design field and has a wealth of knowledge from the interior design, graphic design, operations and technology sectors. She is a sought-after speaker, a Business of Design faculty, on the Better Practices Network Board of advisors, has been a continued education instructor to the faculty at New York School of Interior Design and a member of ASID. Molloy has also chaired the ASID Student Affairs Committee and the board of advisors for the Art Institute – Interior Design Program. Julia Molloy is also the founder of the renowned BOLD Summit – Business of Luxury Design Summit. This event focuses on the special business needs unique to firms positioned in the luxury market and is a powerful catalyst for luxury-focused interior designers and architects around the world. In pursuing her mission to advance the industry, each year she galvanizes the world's leaders in luxury design to share their wisdom and advice. BOLD Summit continues to be a driving force for enriching lives propelling excellence in the design community around the globe.

LuAnn Nigara
LuAnn Nigara is the co-owner of Window Works NJ, a window treatment and awning retailer, a best-selling author, and the engaging host of the design industry's number 1 podcast, A Well-Designed BusinessⓇ. LuAnn brings her energetic and straightforward style to her panel moderation, her speaking events and in her business coaching.


Sandra Funk
Interior design with a soul. A sense of place. Reflecting your desires, personality, and style.

Sandra Funk is the founder and principal designer of House of Funk, an award-winning full-service and luxury online interior design firm with offices in NY and NJ. House of Funk draws on over a decade in business to create thoughtful homes with an emphasis on clean lines and soulful touches, all rooted in tradition.

In 2017, the firm won second place in The American Society of Interior Designers' NY Metro Chapter's Design Excellence Awards for living space design. Sandra's design work has been featured in numerous publications, including Elle Decor, The Huffington Post, Apartment Therapy, Luxe Interiors + Design, Dering Hall, and Design NJ.

Jenny Madden
Jenny Madden Design has been in business designing beautiful spaces since 2011. Prior to founding Jenny Madden Design, Jenny acquired formal training from top tier programs in both Architecture (BA, Columbia University) and Interior Design (MS, Drexel University). She then gained invaluable professional experience across multiple facets of the industry, including construction management, architecture, furniture sales and interior design. The years she spent working for a general contractor, managing large-scale construction projects, are particularly unique within the interior design industry. This breadth of experience places Jenny Madden Design in the distinctive position to not only design beautiful interiors, but to successfully manage projects through to completion. Jenny is able to speak the language of the broader industry and build successful partnerships with architects, builders, and vendors. She understands that a smooth, professional project experience is as important to her busy clients as an excellent aesthetic design.