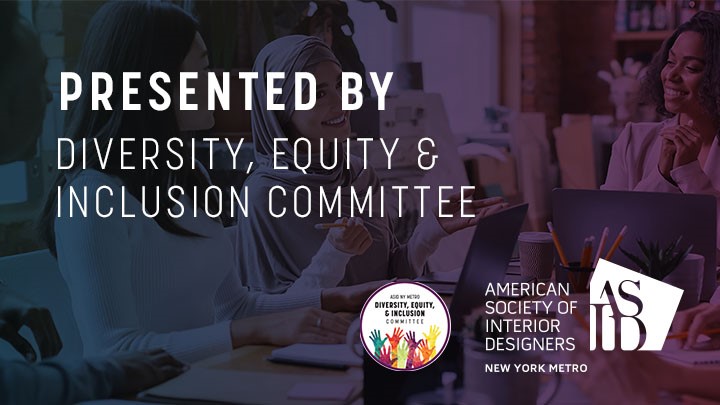 Design & Art Within the BIPOC Space
Description
As a celebration of the rich history associated with all thing's art & design, the ASID Diversity & Inclusion Committee will bring together a spotlight of BIPOC artists as a Black History Month special event. The event will be hosted by Leftbank Art, a world leader of some of the most innovative art options. Known for offering art ahead of its time, Leftbank Art are recognized throughout the industry as the premier offering of all things art.
Please join us for this exclusive event where you'll see examples of art from BIPOC artists who've partnered with Leftbank Art. Featured artists include Michael Smith Boyd, Corey Damen Jenkins, and Justin Q. Williams. You'll have a chance to see a wide variety of other pieces alongside some of the spotlighted artists during this event.
A note from guest speaker, Luis Ramirez:
Luis Enrique Design based in HARLEM NY. I strive to design and create spaces where clients can create and build memories and live practically. Enhancing the clients way of life and altering it based on the design and functionality.
Living in some of the greatest cities in the country SF, DC, NY and designing spaces from Moscow to Greece has allowed me to work with some incredible array of aesthetics . Seeing the elite of design, architecture, & fashion along with my passions for beautiful objects and the outdoors.
I strive to design my spaces with practicality and utility in mind and always fabulous. I grew my love for interior design working with my mother in her house keeping business since the age of 4. I found myself fascinated to clean china cabinets and all the fine crystal or cleaning the ladies closets and seeing their gowns and necklaces anything glittery and gold always attracted me. My mother gave me free rein to decorate my bedroom and our double wide trailer in the middle of the hills.
We look forward to sharing this experience with you during Black History Month 2023!