Allied Member: Francesca Calegari
Member Spotlight
September 2018
By Ariadne Rosales Valero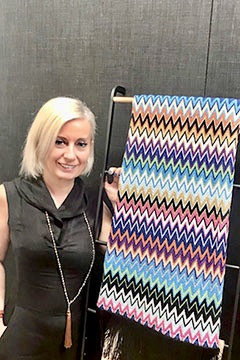 Francesca Calegari has always had an eye for design. Born and raised in Milan, she obtained a diploma in Graphic Design from The Nuova Academia di Belle Arti (NABA) and graduated as a Bachelor of Science in Interior Design from The Art Institute of Pittsburgh. Francesca began her career in residential interior design in Florida, later moving to New York City driven by her desire to find an urban environment with ethnic and cultural diversity and a mix of world influences.
Nowadays Calegari can be found at Donghia's Manhattan showroom as the Textile Client Service Representative. At the luxury home furnishing brand, she brings an expert and curated experience to the retail side of the interior design process. In this month's member spotlight, Francesca shares more about her role at Donghia, her inspirations and even some tips on how to keep up with the ever-changing trends of interior design in the digital world.
What's new with you?
Born and raised in Milan, Italy, I continued my journey living in three continents, seven countries, and twelve different cities. New York City is what's new and exciting. What's new is also a different outlook. Having started my career in high-end residential interior design, my workplace and related role is now one of industry partner. I joined Donghia, Inc. in July 2015 continuing to follow my passion for textiles. My knowledge and understanding of both interior design and trade industries continues to grow as I stay abreast with continuing education and design trends. I am currently a member of the ASID NY Metro Communications Committee where I write the Five to Follow column.
Where do you look for inspiration?
My inspirations originate from various sources such as travel, fashion, art, music, food and anything that touches the senses. In my daily work, I am inspired by the story and craftsmanship of each product and new collection. Listening to silence, is also a source of inspiration.
Keys to your success in five words?
Self-awareness, social-awareness, self-management, relationship management and focus.
How do you keep up with trends, materials, practices, software? Any that you'd like to share?
I read design and trade magazines, blogs and follow Instagram accounts
worldwide. I am very curious about global design trends. I attend ASID meetings as well as events with other professional organizations, lectures and trade shows as well as CEU events for continuing education. In my free time, I continue to practice programs in the Adobe Creative Suite. I have designed event graphics for the 2017 IIDA North Florida Chapter Awards Gala: "An Evening Among The Stars"; I designed and developed a graphics package for the 2015 IIDA North Florida Chapter "Red Carpet Awards Gala: An Old Hollywood Affair." Also, I taught myself programs like 20/20 Kitchen Design and Studio Designer. I am a self-learner; there are a lot of tools available for learning software programs.
Favorite Instagram handle (aside from your own or your company's)?
I like to follow lifestyle Instagram accounts. Some of my favorites: @myparadissi, @eyeswoon, @ashleytstark, @grisorodesigns, and @trnknyc.
What's your favorite App?
Adobe Capture CC. I enjoy capturing color themes from images that can be transformed into customizable palettes to use in applications such as Illustrator, InDesign, and Photoshop. This app also creates beautiful patterns and textures.
What do you like best about ASID?
I have been volunteering for ASID ever since I was an interior design student. The organization has guided me to understand and prepare for the ongoing changes and challenges of the interior design industry as well as its ramifications. The learning experiences provided by the numerous activities offered, the mentorships, and the networking opportunities are invaluable. Most of all, the connectivity among ASID members is the key to success for professional development. I am proud to be a member of this organization.