Member Spotlight
April 2018
Aileen G. Muñoz
---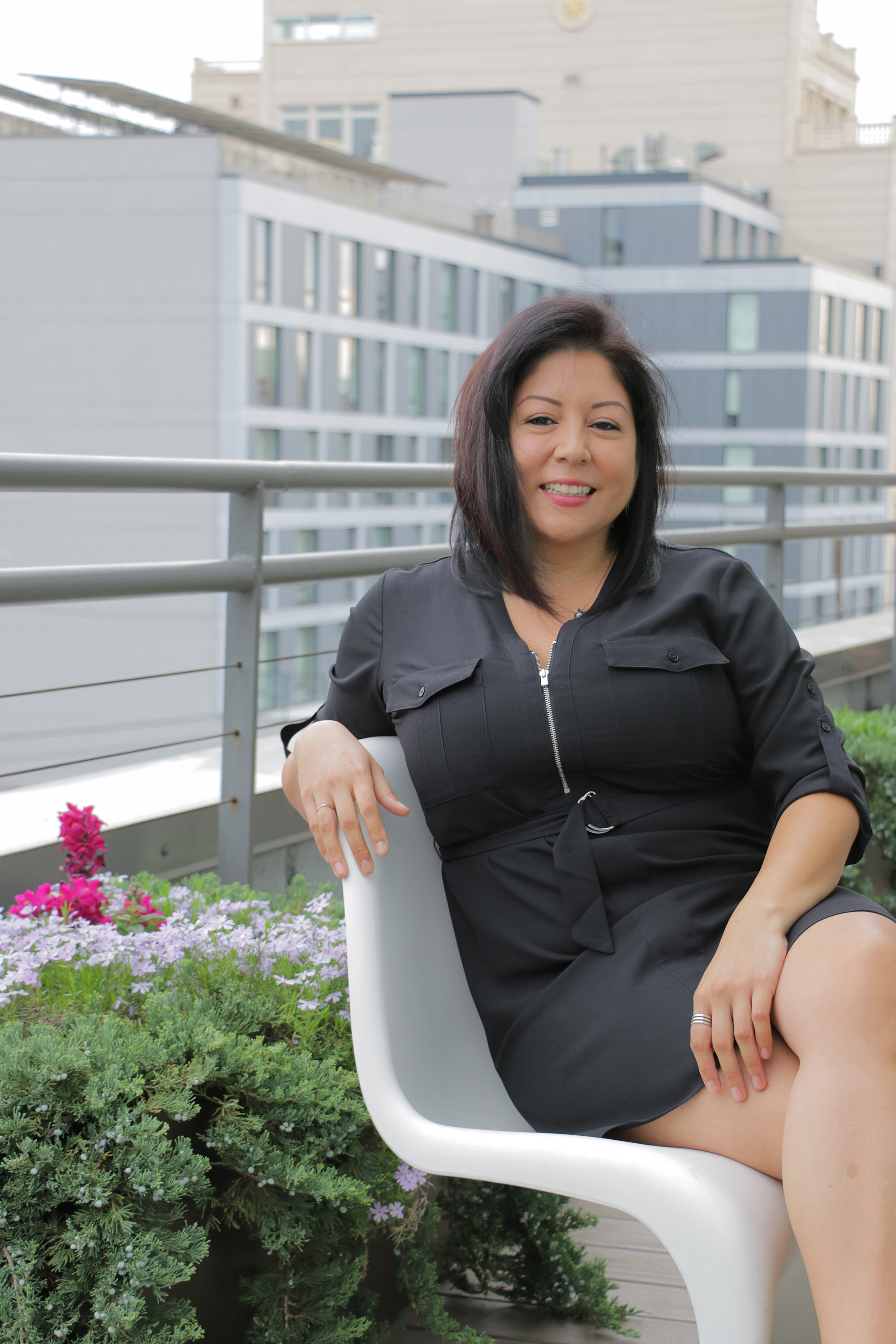 Tell us what is new with Aileen G. Muñoz?
I am currently working on several interior projects within the Jacob K. Javits Convention Center located in New York City. One of the main projects recently completed was the renovation of Javits' Executive Administrative area. It was a multi-phase project that began with the design of a dining area for Javits Employees – aptly named Jake's Café. It went on to include designing bathroom and locker facilities for Javits' many employees. The last phase was redesigning their existing office spaces into open area workstations and placing their conference rooms along the perimeter of the space. The redesign of their Admin area also included relocating their reception area to a more prominent location, providing a waiting area and update the lobby area to include a custom security desk, state of the art turnstiles as well as design of the artwork.
There is one in construction right now that consists of repurposing "found space" in order to accommodate one of the many internal departments within the Javits facility. The main feature of this space will be a large L-shaped glass storefront system to bring in natural daylighting. It will overlook a double-height lobby area. I enjoy the construction progress visits as each visit gets closer to the design envisioned.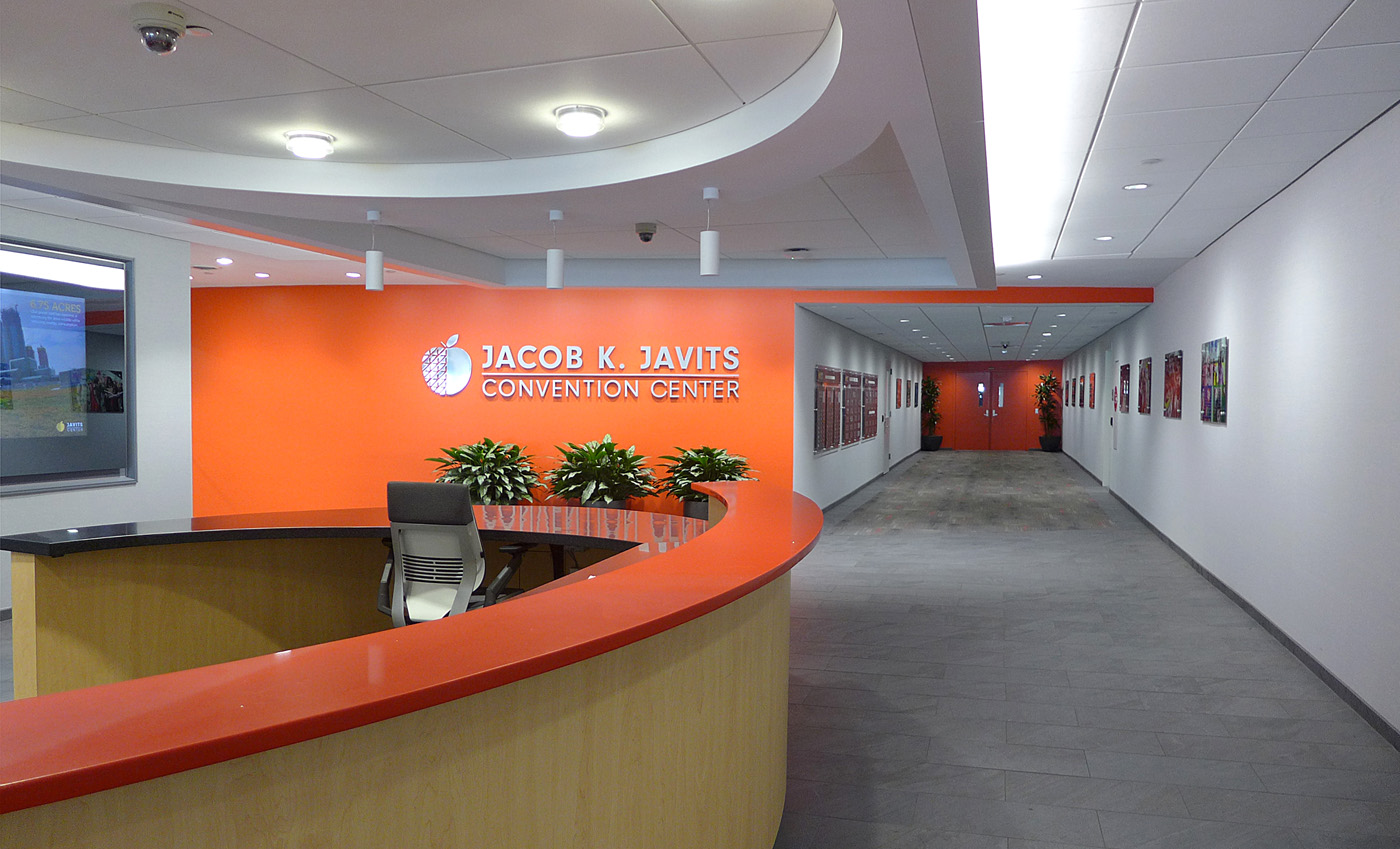 Another project in the works is to assist the client and facility in specifying furnishings within the public spaces in order to meet the ever changing needs of the Javits Center and keep visitors happy by providing them with seating areas and places to charge their devices. We did a beta test for this design by converting the unused space under a stair into a seating and charging area and the feedback was very positive. I'm looking forward to expanding our design and seeing the end result.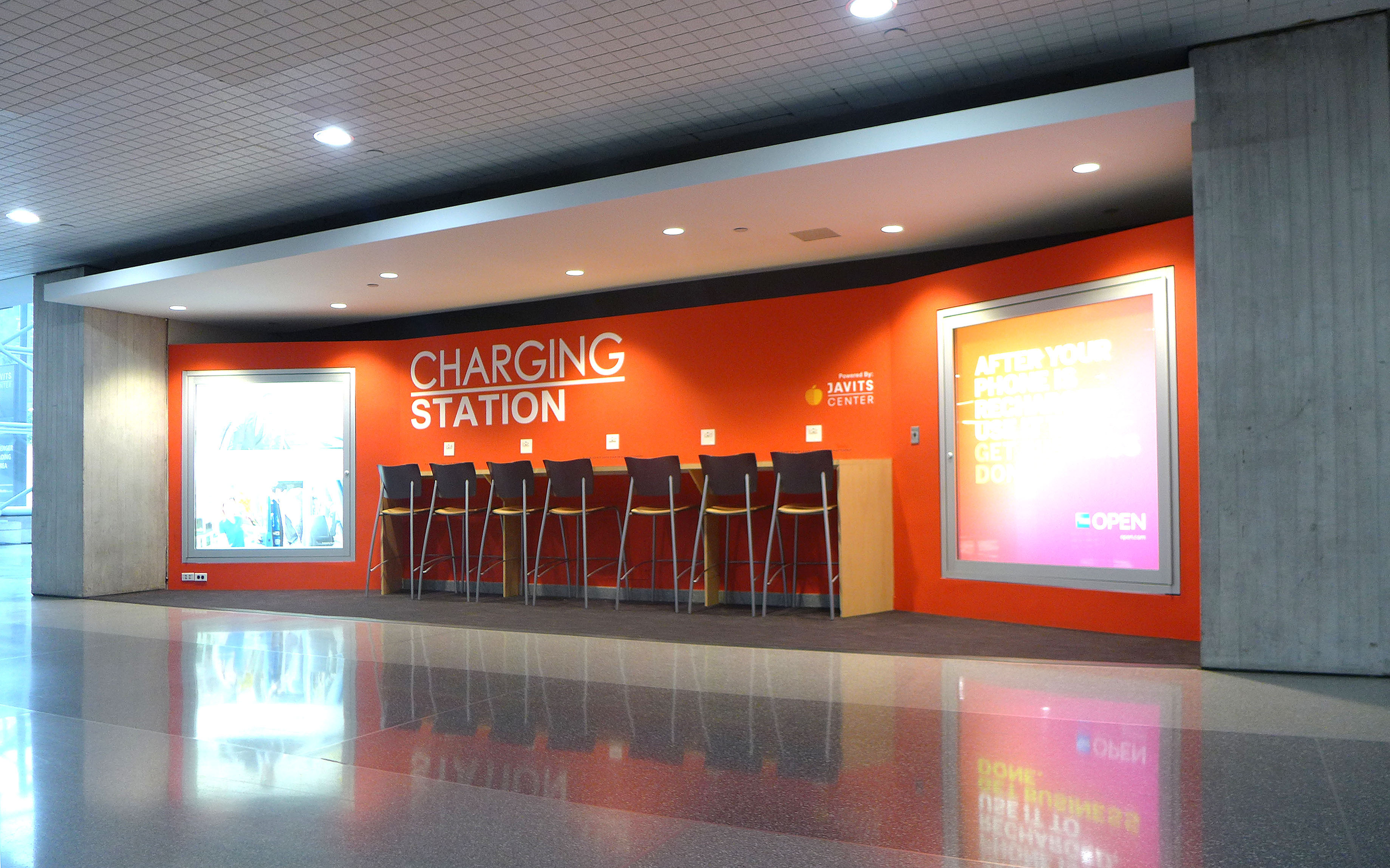 How did you find inspiration for this new project?
Every project is unique. With this current project and every project, it begins by listening to the client and working with them to achieve the project needs. The inspiration emerges from looking at innovative, efficient and cost-effective furnishings, finishes, etc. that satisfy everyone from the client to the end-user.
What character traits helped you attain your success in Interior Design?
Definitely attention to detail and the need for perfection. Being determined and taking the blows with grace helps, too. It's hard not to take the rejection of a design or idea personal so having thick skin is a plus.
How do you keep up with new trends, materials, practices, software? Any that you'd like to share?
There's always something new to hit the market so I definitely make it a point to attend trade shows like NeoCon and ICFF. I manage our studio's sample library so keeping in touch with our reps helps me and our studio stay up to date. Luckily, our studio also has a great IT Department that keeps us up to date with the latest tools and applications in Adobe Creative Cloud, Autodesk AutoCAD, Revit, etc. As a studio, we also host internal informative sessions or "refresher courses" on specific programs which is great way to learn new shortcuts, share tips, ask questions, etc.
Should one ever say NO to a job?
Yes, if there are conflicts in expectations or potential risks that jeopardize the ultimate success of the project. As a designer, you need to make sure that what is being asked of you is within your realm and capacity. It's easy to take on every job that comes your way and do everything to appease the client but by the same token it's easy to oversell and overextend your services. Sometimes a project just isn't a good fit so that's why it's always great when the perfect project comes along – those are the ones that inspire you.
How has being an ASID member helped you?
The networking events are great! I've met other great designers and made some great connections. I have to admit I'm a fairly new member but I'm really excited to take advantage of the all the great benefits ASID has to offer.
What would you be, if you weren't a designer?
I have to say I'd be a pastry chef. I enjoy cooking but baking goods takes the cake! Pun intended! Lol! There's something about creating delicious treats from a few ingredients. Baking definitely helps soothe the perfectionist in me while also infusing that sense of accomplishment.
To learn more about Aileen, see the links below and connect with her on social media.
dD+P LinkedIn, Facebook, Instagram
March 2018
Student Members: Pratt Institute Chapter
---
text by Lucy Wang, Student Representative to the Board, ASID NY Metro Chapter
We have a very active ASID NY Metro student organization at Pratt Institute. We hold bi-monthly club meetings and board meetings, alternating between the two. We have also been teaming up with IIDA members who are mostly graduate students, and this creates a dynamic atmosphere. Our two most successful events so far have been a guest speaker and a behind-the-scenes tour. Our guest speaker Allan Wexler shared his career path and answered questions about his diverse artwork in all fields. The tour was held at the flagship store of Design Within Reach, where we learned about the history of their high-end furniture collection representing many designers. We are excited about planning more events for our student members in the future. We also enjoy attending NY Metro events where we love learning more about the industry and meeting designers from other student chapters.
Sara Thomas, Co-President:
"ASID has given me the opportunity to attend informative events that help further my education in design, and allow us to share these experiences with fellow interior designers."
Michelle Olivo, Co-President:
"ASID has helped us created a supportive community and platform to represent interior designers on campus."
Megan Dang, Treasurer:
"Being a part of an ASID chapter has helped me grow as a team player and allowed me to surround myself with like-minded people."
Kelli McGrath, Administrative Assistant/Student Rep.:
"As a freshman, I am so appreciative of all the opportunities I have already had thanks to ASID, and I can't wait for the many more to come."
Anthony Miksad, Event Coordinator:
"I really want to plan events that allow our members to become fully immersed in the design community!"
Hannah Strickland, Graphic Designer:
"ASID enables me to explore design in ways I could have never imagined!"
February 2018
Student Member: Destiny Bates
---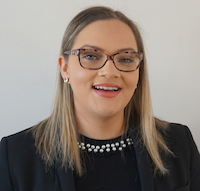 Destiny Bates is an undergraduate student at New York Institute of Technology who has already begun to take master's courses. She will graduate in Spring 2019 from the BFA/MBA program with a concentration in Design Management. Destiny draws inspiration from diverse places including fashion, art and music. She thinks that being a designer is a precious role in society. "We create interiors which people live in, experience events and create memories," says Destiny. "This personal approach to design reflects who I am as a person. I believe everyone has an ethical and moral responsibility to contribute their skill to the world, my being through design." Destiny credits her confidence and success to her supportive parents who always taught her to work hard, stay genuine and follow her passions.
Tell us what's new with Destiny Bates.
I am delighted to say that I'm currently completing my Bachelor of Fine Arts in Interior Design at New York Institute of Technology, graduating in the Spring of 2018. I'm currently in full thesis mode! I am both nervous and excited to soon complete this degree, leading into a new chapter of my life. Although I will be completing my undergraduate degree, I have begun to take courses to obtain a master's degree. I'm currently enrolled in the Interior Design 4+1 BFA/MBA program with a concentration in Design Management. My anticipated graduation is Spring 2019.
Where do you find your inspiration for school projects?
My inspiration stems from diverse and various places but just about all of them can be traced back to three pillars: fashion, art and music. I have a strong passion for fashion, which is where a substantial portion of my sourcing comes from—from the structure of a garment to the material combinations, all of which are highlighted and exposed through fashion photography. Another significant source of inspiration comes from a multitude of various [styles of] art. The expression of ideas through any platform is influencing in and of itself. All art plants a seed in your mind. I pay special attention to this process and allow these seeds to grow. The third major influence is my love for music. Music helps the inspiration and working process. It sets the perfect mood to what I am designing.
What is the best advice that you were ever given?
I am fortunate to have supportive parents who have always taught and advised me to work hard, stay genuine and most of all always stay true to myself and follow my passions. This may sound a little cliché, but it is truly the advice I was built on.
How have you been building your resume while still in school?
I have always taken my academic career seriously, primarily focusing on my studies which has helped build my resume. I was able to study and grow from a variety of amazing professors who became mentors. One resume-building component I was able to take advantage of while in school was entering into competitions and scholarships. I was fortunate enough to win multiple, which helps build my resume. This includes the ELF Education Legacy Fund Scholarship, Friends of Arch & Design Scholarship, NEWH New York Chapter Scholarship and, most recently, I won first place in The Decorators Club Educational Fund, Inc. Annual Scholarship Award. I am so honored and grateful for these achievements.
Tell us about your favorite new trends, materials, practices, software, etc.
There are so many new and changing trends. Something I am interested in is personality— design that applies to you. I believe that when creating an elegant and sophisticated space, the finishing touch in a chic design is the materiality. I love a monochromatic pallete that layers materials of different textures, patterns and prints. This will always be a trend and to me it is actually a classic staple. I believe the notion of the "trend" adds new accents, through changing and adding materials and colors. Some of which right now are natural palettes and matte black, to the mix of raw surfaces and smooth, from see-through concrete to polished marble.
How has being an ASID member helped you?
Being an ASID member has exposed me to diverse people, places and events within our industry. This is extremely beneficial to someone like myself who is entering the field. One event I attended through ASID was the Kravet Textile Design Student Challenge. I have attended for the past two years, and each was an amazing experience. The all-day process was intense, fast paced, educational, nerve-racking, fun and an overall amazing experience. I was fortunate to be a part of an amazing group each year, compiled of students and a mentor. During both events my team and I were lucky to win first place, having our textile printed and upholstered. This was an exciting and rewarding experience.
What are your plans after graduation?
Graduation is approaching, and the job search will be beginning soon. My past experiences thus far have led me to desire a future in the retail and hospitality fields. However, I'm excited for new opportunities and experiences to continue to mold my niche within the design industry. With so many avenues in this industry, I am open to a multitude of fields because I know that within each there is something to be learned.
To learn more about Destiny visit https://www.destinyjbates.com/biocontact-1/
January 2018
Allied Member: Vanessa Deleon
---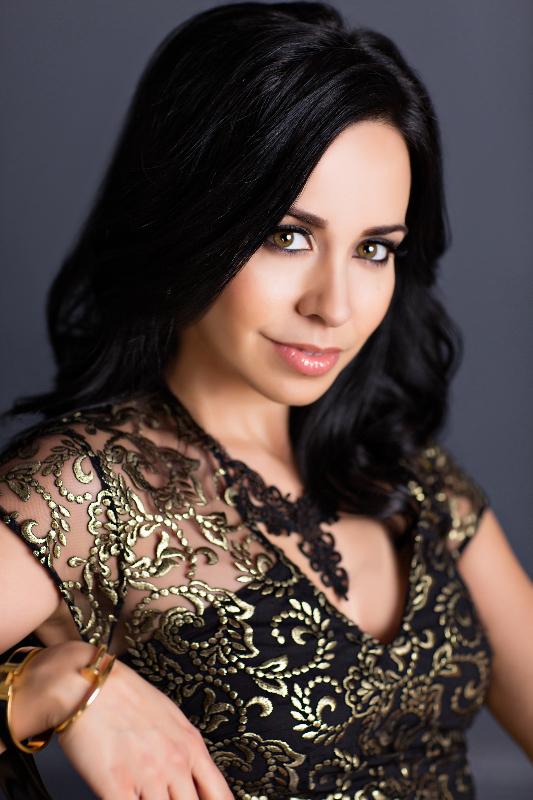 From humble beginnings in her family's furniture business Vanessa Deleon Associates draws inspiration from her Latina roots and art-deco styling that strongly influences her culture. Designer, editor, lifestyle expert and ASID NY Metro Director at Large, Vanessa Deleon has been featured in several mediums from publications to television including SOMA, Hudson Mod, 201 Magazine, New York Spaces, Interior Design, Latina magazine. Television appearances include "Generation Renovation," "Designer's Challenge," "Design Star," the Food Network's "Restaurant Impossible" and the "Ice & Coco Show." Vanessa recently was awarded "Latina Trailblazer of the Year" by N.J. Statewide Hispanic Chamber of Commerce.
Tell us what is new with Vanessa Deleon Associates!
There is so much that is new with Vanessa Deleon Associates. Too many things; instead I will fill you in on what's next with Vanessa Deleon Associates. This week I am showing off my designs at the True Manufacturing booth and Coastal Doors, happy to be representing two huge companies in the Kitchen and Bath category at the KBIS Show. Very excited!
How did you find inspiration for this new project?
For the kitchen design at True, I was inspired by a little rhythm, a touch of brass and a lot of blue. It's truly the perfect combination for the most extraordinary kitchen.
The inspiration for the Coastal booth is a spin-off of another brand I represent—Tile Bar "V-Zag," inspired by the letter "V" for Vanessa used in the design, a signature piece for me.
What character traits help you attain your success in Interior Design?
Drive, Dedication and Determination. These three character traits are what I live by.
How do you keep up with new trends, materials, practices, software?
Lots of reading, in bed that is, newspapers, trade magazines and some design blogs on the net. ASID meetings and I attend some CEU events that I find interesting.
Are there any that you would like to share?
I love the WSJ-Off-Duty Section on the weekends.
Should one ever say NO to a job?
So funny you should ask, just this week my operations manager asked why I would say NO to a job? My explanation: "if you know the request is not going to be good for the client and/or the designer (been there, done it and you know 100% it is not going to work) go with your gut." I went over the scenario with my operations manager and she understood and agreed. One of the hardest words to say for some, especially in business is the word "NO."
How has being an ASID member helped you?
Very happy to be an ASID member. The benefits of being part of such a great group of people in the design field and able to share a common interest is priceless.
What would you be, if you weren't a designer?
At this point in my life, I couldn't think of any other career—hands-down, Interior Designer.
To learn more about Vanessa DeLeon Associates visit: http://vanessadeleon.com/
---
December 2017
Hinako Nakagawa
---
Tell us what is new with Hinako.
What's new is that I now call New York home. I relocated here two years ago after spending nine years as a set designer in one of Tokyo's leading TV stations. It has been very exciting to be able to bring my experience in the entertainment industry to the interior design field. For the past few months I've been working at nemaworkshop and our team was recently invited by Renaissance Hotels to participate in a design challenge. Our design proposal was presented at BDNY (Boutique Design trade fair) along with proposals from other prominent architecture and design firms. The new programs of the Renaissance brand are highly innovative and allowed us to be very creative. One of our groundbreaking ideas was the design of their concierge desk or a so-called discovery table. The table allows the guest to interact with the navigator (the concierge) and serves as an icebreaker between the guest and the hotel. The design included a massive marble table with overhead projection activated by the guests.
How did you find inspiration for this new project?
As a studio we paid close attention to the brand's identity and to their core values which are discovery and play. Our design process started with story-telling by making study models. They helped rev up our inspiration and guaranteed that the final design would be meaningful.
What character traits helped you attain your success in Interior Design?
I believe that my strengths lay in my creative work. I have never been good at entertaining a crowd, but I strive to deliver designs that speak for themselves and are exceeding people's expectations.
I'm also lucky to have experience working in creative fields on two continents - Asia and America where I have been exposed to different work practices that are culturally diverse but invaluable and enriching. An important thing that I have learned is also how to manage tight deadlines and budgets which key for our industry.
How do you keep up with new trends, materials, practices, software? Are there any that you would like to share?
I am lucky to be surrounded by designers from various fields such as architecture, fashion and jewelry design. And it is usually my extensive network of friends who help keep me up to speed with new trends.
Should one ever say NO to a job?
I don't believe so. I look at job opportunities as means to broaden my horizons and knowledge. The learning process is a work in process and I think that it is always worth approaching a challenge with a positive attitude.
How has being an ASID member helped you?
Since I became an ASID member, I have been able to extend my network and keep in touch with important mentors and figures in our field. The various ASID events and talks have facilitated my adaptation to the NYC design world and have made me feel more at ease in our design community. The connections and friendships that I have made have made my transition from Tokyo to New York smoother.
What would you be, if you weren't a designer?
When I was younger I was thinking of becoming an art teacher. Both of my parents are teachers and it seemed natural to follow in their footsteps until I realized I didn't like teaching. Now, I am very happy with what I have chosen as a career path.
To see more examples of Hinako's work, visit here: http://hinakonakagawa.com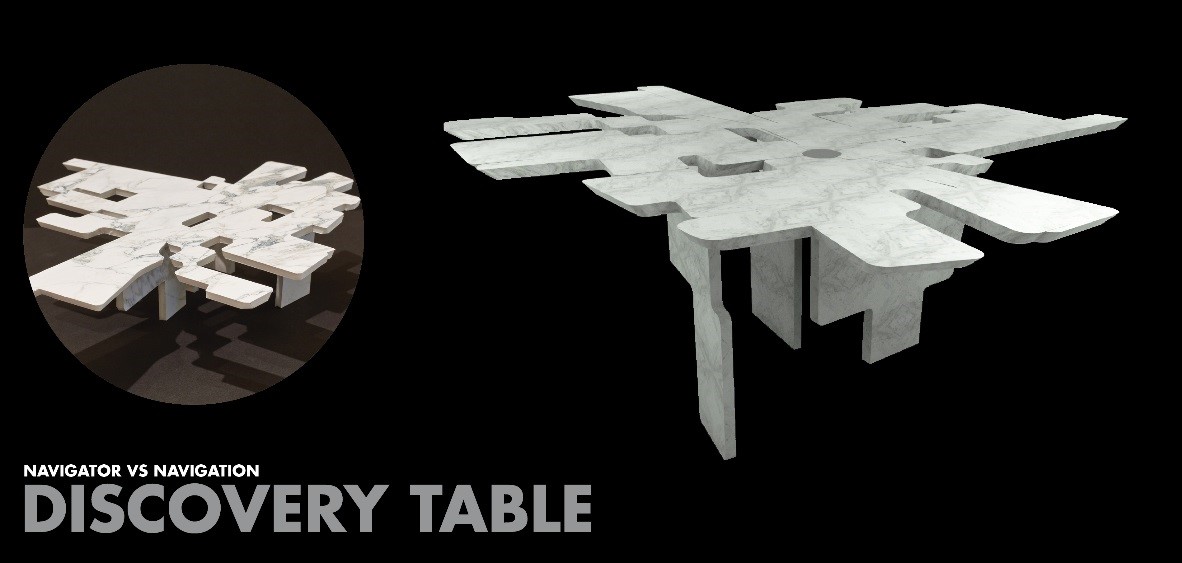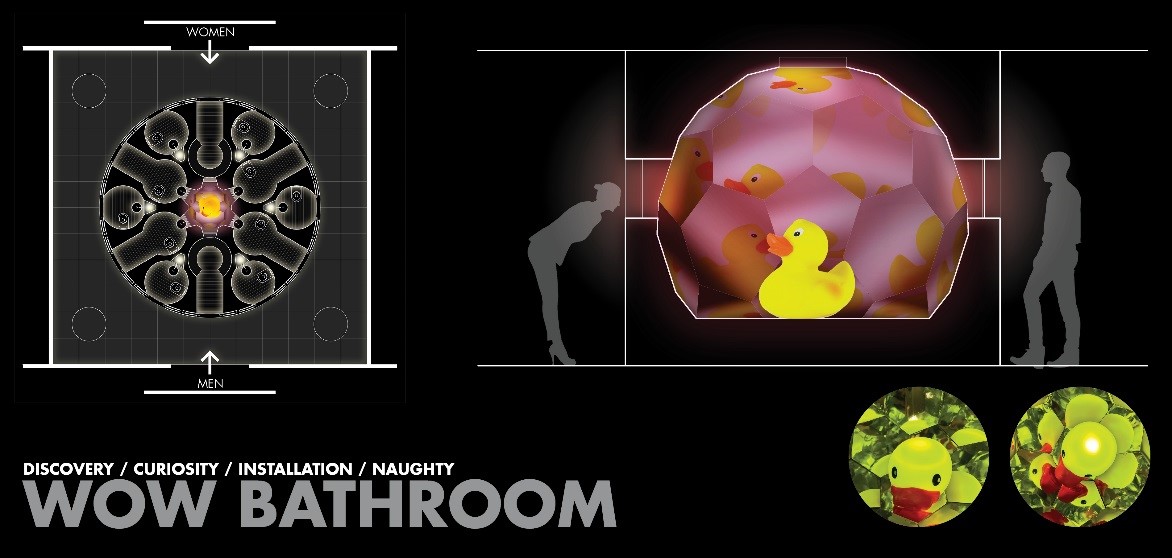 ---
November 2017
Industry Partner: Alison Wittenmyer of Steelcase
---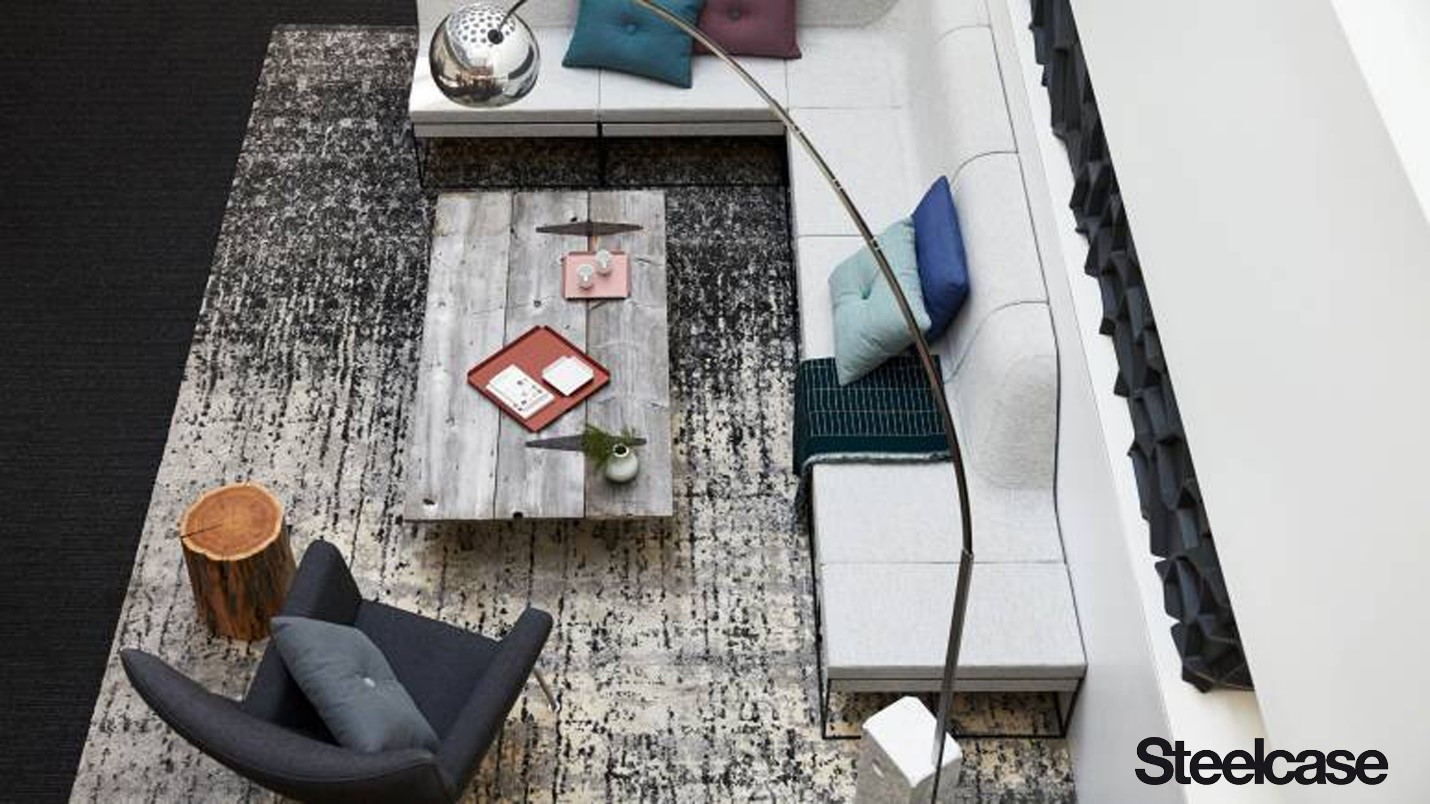 Tell us what is new with Steelcase.
Steelcase has recently announced several celebrated business partnerships. Our new partnerships with Microsoft, Blu Dot, Floss, Mitchell Gold + Bob Williams (MG + BW) have been implemented into our New York Worklife Center in a masterful way. Products from these manufacturers have been integrated into our showroom to provide an amplified experience and inspiration to the design community.
What has been the number one selling product for Steelcase?
Of the recent changes in our showroom, there has been the most attention around our new signature Creative Spaces. These are 5 intentionally designed work environments that highlight how space and technology can be integrated to support the most innovative ways of working; no matter if you are working side-by-side or across the globe. There are three guiding design principals taken into consideration with these Creative Spaces; building a fluid ecosystem of technology, designing for creative confidence, and creating an emotional connection.
Where does the inspiration come from for your new product lines?
Each product line has its own unique story and inspiration rooted in the research and insights that guide the product design process. We always take on a user center design approach taking note of the experience of the end-user. Many of our current offerings are supporting the reality that the growth of powerful personal technology enhancements and escalating globalization and are leading to constant interconnectedness.
How do you keep up with new trends, materials, practices, software?
Steelcase has a global research team called Workspace Futures. They take charge of leading research efforts within the work experience focusing on the now, near, and the far. This team publishes primary research in our bi-annual 360 Magazine. We also regularly partner with leading research companies to validate and extend our breadth of research.
How has your experience as an ASID Industry Partner helped you?
Being an ASID Industry Partner is an ongoing and deeply rooted celebration with Steelcase. Within the New York market, there are always engaging events that lead to shared inspiration and a vibrant growing network of talented professionals.
What can we look forward to seeing from Steelcase?
At Steelcase we believe in constant change and iteration and this is reflected in our space. Along with the constant new products being highlighted in our showroom, look for the infusion of design thinking into our showroom strategy.
Learn more about Steelcase and browse through their product catalogue here: https://www.steelcase.com/
---
October 2017
Emerging Professional: Indira Lourenҫo
---
Originally from Luanda, Angola, Indira has earned a Bachelor's Degree in Fine Arts from the New York School of Interior Design. She founded I LOU Design upon her graduation and has been featured in established publications like Interior Design Magazine, Surface Magazine, Modern Luxury Magazine, and Chocolate Magazine. Her design style is sleek, soulful and contemporary. In addition, she has found an outlet for her creative expression in a style blog, "My Strong Desire", about fashion and art, interiors and architecture.
We sat down with her to talk about her work and experiences and asked her to share some insights.

Tell us what is new with I Lou Design Corp.
In fact, quite a lot. Beyond interior and furniture design, I LOU Design Corp is now producing photorealistic renderings and virtual staging for developers, realtors, engineering firms, interior designers, and building owners. It's just as rewarding to bring someone else's conceptual vision to life, especially when it helps them make a sale or secure funding for a project.
How did you find inspiration for your newest projects?
I can find inspiration from anywhere and anything, but if I had to narrow it down - my travels, museums, and fashion are the biggest influencers.
What character traits helped you attain your success in Interior Design?
I think my upbringing gives me a unique vision and sensibility that lends itself to work that stands out. Creativity is one thing but it needs a driving force behind it, which I believe I have in spades. Finally, creativity and passion are great but they are grounded by my professionalism that ensures that the business side is organized and reliable.
How do you keep up with new trends, materials, practices, software? Any that you'd like to share?
ASID, Interior Design Magazines, and peers that inspire me are the main reasons I am able to keep up with an industry that never slows down for anyone.
Should one ever say NO to a job?
It depends. I am a positive person and believe in my ability, so there aren't too many reasons why I would turn down a job. I think well-being is very important though and if someone else feels that the job is going to take away from their happiness instead of adding to it, then maybe they shouldn't take it. We're all different in that regard.
How has being an ASID member helped you?
The guidance and opportunity to learn from my membership has helped me shape my business.
What would you be, if you weren't a designer?
If I wasn't designing interiors and furniture…I would definitely be designing fashion. Sorry, I'm a designer from top to bottom.
To learn more about Indira Lourenҫo and her work visit:
or follow her on Instagram
September 2017
Student: Yu-Hsiang Fu
---
Growing up in Taichung City, Taiwan, Yu-Hsiang was deeply influenced by his older brothers whose professional achievements served as a motivational example for him. He started his design journey as an Industrial Design student at Chang Gung University in Taiwan. However, his fascination with daily objects and their effect on people's lives was soon replaced by a strong curiosity about interiors. After working for two and half years at a high-end residential and retail design firm in Taiwan, Yu-Hsiang applied to NYSID's Master of Fine Arts (Post-Professional) in Interior Design program which he graduated from in May, 2017.
Yu-Hsiang completed internships at Input Creative Studio and multidisciplinary firm AVROKO. He is currently employed at Mapos Studio as an interior designer responsible for the retail design projects of the studio. His next step is to get involved in a variety of interesting projects and hone his film and photography skill.

What is the best advice that you were ever given?
I was given the most impactful pieces of advice by my mentor and by my brother. They once told me - "Decide that your desire for something is stronger than your fear of it." and "Opportunities come to those who are prepared". Although they sound simple and probably a bit cliché, they keep me strong when I am faced with challenges. These powerful words help me set my goals even if they might seem unattainable at first.
How do you find your inspiration?
My inspiration comes from the street, exhibitions, magazines, photos that I have taken and from Pinterest. I collect and categorize all images in separate Pinterest boards. That becomes a substantial database with more than 15 thousand images that keeps growing.
How have you been building your resume while still in school?
I'm always interested in attending events, workshops and competitions. I see them as opportunities to build and enhance my resume. While working on school projects, I like to push the boundaries and challenge myself to think outside the box. As a result, I became the Grand Prize Winner of the ASID National Student Portfolio Competition. My projects demonstrated fresh and unique ideas that amazed the professors, jurors and interviewers. Moreover, I got an internship at a leading hospitality design firm and several other interview opportunities.
What are your favorite new trends, materials, practices, software, etc.?
I'm interested in the new trends that are currently transforming retail design, including the connection between the online and the physical store and the new technologies used to enhance shopping experience such as AR (Augmented Reality), VR (Virtual Reality), AL (Artificial Intelligence).
How has being an ASID member helped you?
As an ASID student member, I attended several ASID events and competitions so I could connect with various industry members and peers, and work on building my brand and reputation. I was impressed by the Student Portfolio Review Events, which helped me gain valuable advice from the mentors. Furthermore, as the Grand Prize winner of the ASID Student Portfolio Competition, I got the opportunities to network with leading manufacturers and professionals during the ASID Awards Gala, the SCALE student summit event and a tour of Hansgrohe's headquarters.
You have already graduated and have found placement in an interior design firm. What comes next?
First, as a designer at Mapos Studio I am striving to implement what I have learned through the course of my Master's degree and demonstrate my abilities and the value that I could bring to the company. Second, I will keep attending ASID events so I could expand my connections with more professionals which could bring me even more opportunities. Finally, I would like to further my knowledge and get involved in different types of projects such as industrial design, exhibition curating, photography, and projects that bring people with different backgrounds together.
To view more examples of Yu-Hsiang's work visit yuhsiangfu.com
August, 2017
Allison Rothbart
---
What is the best advice that you were ever given?
A good friend once told me, "You can design your life exactly how you want it to be." She explained that there is no rule book. If you like to cook, become a chef. If you love dogs, work at the ASPCA. For me, the one thing I always loved to do was interior design. I thought to myself, what if I could turn this passion and hobby into a career?
What are the traits that you think are essential for success in interior design?
My skills as a business owner were learned through my formal schooling; however, a lot of my skills as a designer were learned by practice in the field. The foundation of having a business degree has been very valuable to running my own interior design business, Avenue Design Group. I learned about marketing, finance, entrepreneurship and operations management. However, professionalism is something that cannot be taught at school. It comes from within. It shines through the genuine desire to make your client happy while creating a beautiful space.

How do you find inspiration?
I see design all around me. Especially when I'm watching TV shows and look at the set design - the style is often on point for the time period. I often can name the brand of each and every piece of furniture. This annoys my husband as I shout it out during a show! Also, when I walk into beautiful retail stores such as the Ralph Lauren store on Madison Avenue, for example, the design typically exudes style, right down to the scent in the air. I see these stores take a lot of design risks, both with the clothing and interior design, and they always pull it off flawlessly.
How do you keep up with new trends, materials, practices, software?
Going to the D&D Building and 200 Lexington Avenue, as well as other trade buildings is very helpful. That way when I need to bring a client there for an impromptu meeting, I know exactly where to find the best green ultra leather, for example. No guessing in front of the client! I try to go to as many trade shows as possible to meet new vendors. A designer is only as good as his or her vendors.
How has being an ASID member helped you?
Being an ASID member is a huge badge of honor for an interior designer. Not only does it link me to a huge network of talented trades people and other designers which I can collaborate with, but also there are constantly so many great trade events to attend. Moreover, just having ASID on my business card gives me confidence that when I give my card to a client or trades person, there is a enormous team behind me backing up my credibility.
Should an Interior Designer ever say NO to a job?
When I was first starting out as an independent interior designer, it was very hard for me to say no to a job. I actually took on jobs for small amounts of compensation just to get my foot in the door. However, as you become a little bit more senior, it is vital that you interview the client while the client is interviewing you. It needs to be a good mutual fit. I have a list of questions I run through with them such as: What is your decision-making style? How easy is it to contact you and if so by what means of communication? Do you like to work in person together or virtually? What is your desired budget? Have you ever worked with a designer before and if so what did you like and dislike about the experience? Why are you not working with that person anymore? Etc. At the end of the interview, I take some time on my own to collect my thoughts about the project and if doesn't seem like a good fit, I am always happy to refer them to a colleague who may be better suited for the work.
What would you be, if you weren't a designer?
I'm head over heels in love with my puppy Australian Shepard, Bill. If you don't believe me just check out my work Instagram @avenue.design.group. I would probably work with dogs in some capacity. Training or working at a pet shelter. Their compassion and love for others is unmatched by humans. And who can resist those puppy eyes?
For more information on Allison and her work head over to her website

www.avenuedesigngroupny.com